Our time on the lake is divided between diving known wrecks and searching for those which are lost. In addition, Captain John occasionally assists Discovery Dive Charters out of Wildwood State Park. You will find a link to their site on the previous page.
Like most wreck hunters on the lakes, we are a loosely knit group of amateurs. Some of us are divers, some help man the search instruments, and others come along just for the ride. You will find us out on the water off Cleveland most weekends when the wind and waves permit. In other words, not often enough.
Most of the actual maintenance of this web site is done by James Koch during the Fall , Winter, and Spring. Fortunately the Cleveland Public Library has an excellent collection of local and regional newspapers on microfilm from which we are able to derive a wealth of historical information.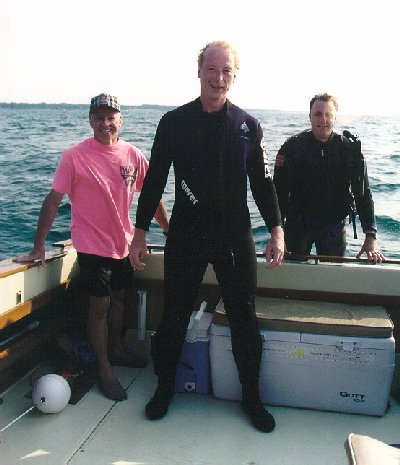 The above is a photo from the summer of 1996. On the left is Scuba John, always the first man in the water and usually the last one out. In the center is our skipper John Koch, the owner of the Seaduction II. To the right is Kevin, just emerging from the water.
---
.